Tagaytay Condo, The Wellington Courtyard, Vacation Condo near Robinsons Mall & Taal
Tagaytay Condo THE WELLINGTON COURTYARD – Corner Mayor's drive & Mahogany ave., Tagaytay City
Make everyday a weekend getaway with this vacation condominium in Tagaytay City that suits your preference for space, comfort and style. This 5-storey courtyard condominium inspired with American country architectural features was designed to create a perfect setting for residents to relax, socialize and enjoy. 
This American Country-inspired Vacation Condominium is most ideal for those wanting to have a taste of the "perma-vacationer's" lifestyle in Tagaytay- with its cool clean air, peaceful surroundings and inspiring vistas, it is no wonder it is regarded as one of the most beautiful and livable cities in the world!

Whether it be treated as a vacation condo or a permanent residence, you will have no complaints! There are schools around the area and nearby business establishments such as the Robinsons shopping mall, Olivarez Plaza, popular fast-food outlets and restaurants.

Highly affordable condo units of different types are available for you to choose from. There are 2-Bedroom and 1-Bedroom promenade flats, 2 or 3-Bedroom lofts and the most impressive 2-Bedroom corner penthouse.

Robinsons offers highly flexible payment options!
Tower A & B is now Ready for Occupancy … Tower C will be deliver by May 2011… Tower D will be deliver by March 2013 and Tower E will be October 2013…
Unit Available:
1Bedroom  29sqm        Php2.1M1Bedroom  32sqm        Php2.3M2Bedroom   49.50sqm   Php3.36MPenthouse 70-90Sqm         Php5.7-6.7M
The Wellington Courtyard location Map
Corner Mayor's drive & Mahogany ave Tagaytay City (Beside Matir dei, Mahogany Market near Summit Ridge Hotel, Robinsons Supermarket, Savemore Crossing, Taal Vista)

Note: See below Google map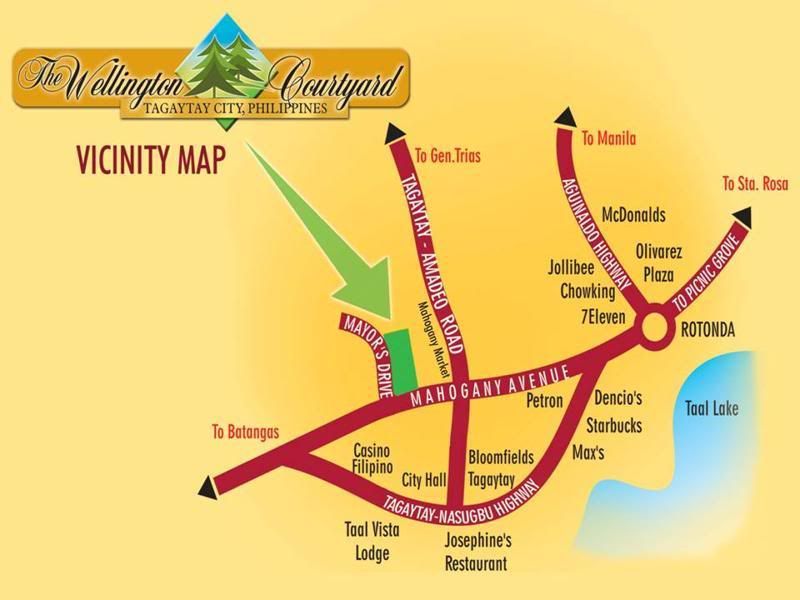 Tower A & B is Now Ready for Occupancy, Tower C will be deliver by May 2011, Tower D March 2013, Tower E October 2013